The Com-Pleat PAF-9O provides many advantages over pad-type filters

Averages four times the life of other filters.
Down time for filter replacement cut in half; Combined with longer life, actual spray booth down time reduced up to 85%.
Lower shipping costs.
Low static resistance.
Storage problems minimized, takes approximately one eighth of the space.
Improved distribution of air movement over booth space.
No increase in noise level.
PAF-9O-W Waterborne Compatible
Our new white clay-coated media is water-resistant, adding strength and extending filter life. 8 pleats per foot, 3' x 30'.
Last 7 times longer than other paint arrestors





Reduce High Finishing Costs





Free Air Flow
Lasts Longer
Easy to change
Self-supporting
The MAXI-AIR is a superb combination of proven technology of the old-style baffle booth and improved design. It conquers the disadvantage of too much paint passage, but maintains the advantage of consistent air flow.
The triple walls and offset holes of the MAXI-AIR provide a torturous path for the paint-laden air flow. Here's how it works:
Paint directly impinges on the outside wall. This provides a collecting of paint much the same as if the MAXI-AIR were being painted.
The paint carried in the air stream through the large holes is coated on the second wall, and the air stream is redirected to coat the back of the first wall.
The air is then carried into the next chamber where the front of the third wall and back of the second wall are also coated.
Clean
Simple
Efficient
GRABBER

exceeds EPA standards of overspray emissions. Protects our environment! Stacks stay clean too!

GRABBER

is installed with a screwdriver in any spray booth - in minutes! Self supporting filters are simply pushed into place - in seconds!

GRABBER

Filter System is self sealing allowing no overspray leakage around filter frames. Multiple stage filters assure prolonged filter life with maximum air flow.
The GRABBER converts a standard spray booth into a high efficiency spray booth. Your present filter acts as a primary filter - GRABBER (or permanent module) contains the final filter.
Paper Mesh Paint Arrestor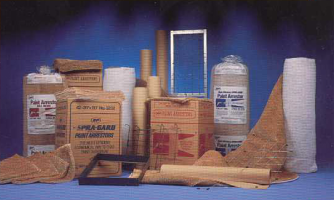 RP Paint Arrestors:
An improved and expanded total product line, nationwide distribution and on-site design consultants create the most effective, least expensive overspray collection system for your operation.
RP PaintArrestors are disposable paint overspray collectors that efficiently trap paint solids before they reach the exhaust stack. These were the first dry filters specifically designed to control paint overspray. Through the years, the RP family of standard, high efficiency and high capacity PaintArrestors has proven to be a cost effective, efficient way to handle virtually every overspray requirement. Fabricated of slit and expanded paper, or slit and expanded paper with polyester, the multiple layers of RP Paint Arrestors are assembled so the intake side has larger openings than the exhaust side. This provides depth loading for maximum service life.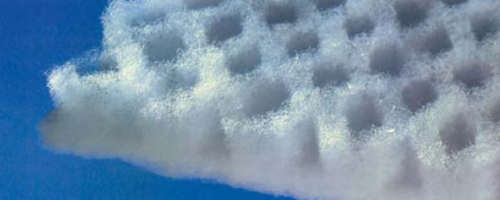 Cut Operating Costs while Improving Performance!
Paint Pockets is the best performing, single-stage overspray arrestor, bar none. Paint Pockets excels in arresting both liquid and powder coaling overspray generated in industrial, automotive and aerospace applications. Paint Pockets knocks down and retains more overspray than any other arrestor. It keeps overspray out of your exhaust stack and off the booth floor. Paint Pockets is your best value for production spray booths.
Its unique design holds up to five times more overspray than other filters, enabling you to cut your filter changes by up to 80%. The three-dimensional Diamond Pockets embedded in the front face of Paint Pockets more than double its surface area, allowing the arrestor to capture and hold very large quantities of overspray. Paint Pockets arrestors have superior wet tensile strength. Arrestors loaded with wet overspray do get heavy, but they won't tear or sag.
Paint Pockets arrestors slash disposal costs. Fewer filter changes means less waste. Your savings are significant, particularly if you use hazardous waste processors.
FLEX System
FLEX delivers up to 15 times more life than traditional filter pads.
Savvy sprayers know that no two spraying applications are alike and that when filters are full, they're full... You have to change them. Doesn't matter whether it's the middle of the night, middle of a shift or just a couple of hours from the weekend...filters tell YOU when to shut down.
Well, no more! Whether you choose a full set of ESP (Extended Surface Pads) for maximum production time between filter changes, or a mixture of ESP and standard pads specific change-out schedule... CONTROL IS NOW YOURS!
With triple the media of traditional pads and the real world proven capability of Paint Pockets@ exclusive, patented, Diamond Pockets Technology" (delivering 3-5 times more holding capacity per square foot of media)...
FLEX with ESP lets you finish up to 75 times more product between filter changes vet mixes and matches with pads to meet your rescheduling needs.
CleanVue
CleanVue* maintains maximum spray booth lighting by totally shielding light glass from overspray!
CleanVue* is applied directly over light glass in seconds - adhers to any clean surface! Simply peel off when dirty and re-apply a clean sheet.
CleanVue* means never again having to clean spray booth lights. Enjoy tremendous labour savings!
Filtrair FF-560 GX ceiling diffusion media

is available in a complete range of standard size pads, rolls, panels and custom sizes, cross-referenced for easy selection to fit all paint spray booths and prep-stations.
Manufactured in the Netherlands, Filtrair FF-560 GX is designed to provide superior intake airfiltration in paint spraybooths used by the automotive refinishing and industrial finishing markets where controlled laminar air flow is required. lts lightweight design makes it a good choice for both full paint spraybooths as well as for prep stations.
If you are looking for the least expensive fire retardant paint arrestor media, fibreglass rolls and pads are the answer. We stock 100' rolls that come in widths including 20", 24", 28", 30", 36", 40", 42", 48" and 60". Pads come in case lots of 100 and we stock the most common sizes: 20" X 20" and 20" X 25". Call for special sizes.